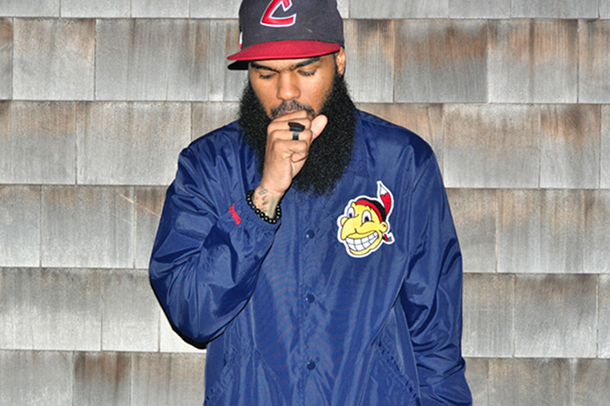 "Pound" ist das wohl beste HipHop-Video was ich seit Monaten gesehen habe!
Walu hat den Song visuell mit gewaltigen Bildern und sehr gutem Schnitt umgesetzt! "Pound" ist aus Stalley 's "Lincoln Way Nights" Album, welches von Mishka präsentiert wird und hier kostenlos runtergeladen werden kann!
Мишка is proud to announce our newest release in collaboration with Ohio born rapper Stalley. His album Lincoln Way Nights: Intelligent Trunk Music is available below as a free download for all to enjoy as much as we have for the past few months.
Intelligent Trunk Music marks a new turn for Stalley, the up-and-coming Bruce Springsteen of rap. After sharing the personal story of his transition from Ohio to New York City with The Autobiography, Stalley is taking it back to his small town roots in Massillon, Ohio. Massillon is a town known for its blue collar work ethic, steel factories, American muscle cars and a love for hard 808 kicks. Stalley linked up with producer Rashad to create a sonic aesthetic to match.
---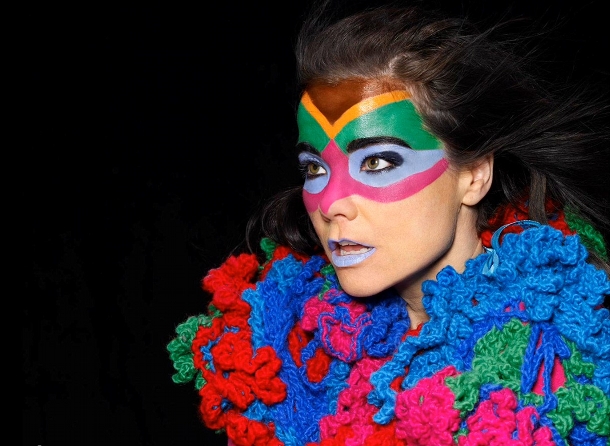 Now, here is the official Video directed by Michel Gondry .
---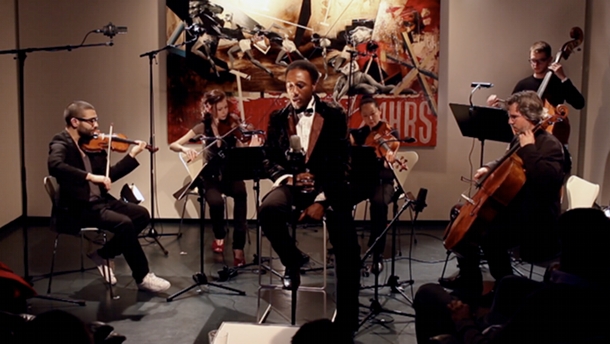 Einige werden es damals mitbekommen haben. Aloe Blacc war im Berliner Creative Space Made zu Gast und hat mit den Künstlern Mihalj "MIKI" Kekenj und Jaybo etwas Einzigartiges geschaffen. Miki hat die Songs von Aloe neu arrangiert und instrumentalisiert und Jaybo kreierte, inspiriert von der Musik von Aloe Blacc , ein Bild, welches ihr im Hintergrund des Videos seht! Diese Woche werden im Made Blog alle sechs Live-Songs des Projekts täglich vorgestellt. Schaut euch auch unbedingt das Making-Of Video an! Die weiteren Teile werde ich hier nach und nach anfügen!
Part 1:
"Take Me Back"

Part 2:
"IF I"

Part 3:
"Mama Hold My Hand"

Part 4:
"Loving You Is Killing Me"

Part 5:
"I Need A Dollar"

Part 6:
"Billi Jean"

Making of:

P.S. Bald ist Erykah Badu in der Stadt….
(via Made )
---
Pusha T – "Trouble On My Mind" (feat. Tyler, The Creator)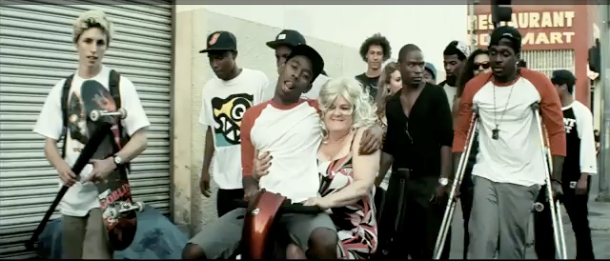 Nach dem unterhaltsamen Making of zu "Trouble On My Mind" von Pusha T zusammen mit Tyler, The Creator konnte man sich schon auf das gesamte Video freuen, welche heute released wurde.
"Trouble on My Mind" wurde von den Neptunes produziert und erscheint auf Pusha T´s EP "Fear of God Part 2: Let Us Pray" .
Making of:

---
Jimmy Fallon, The Roots & Justin Timberlake – History Of Rap Part 2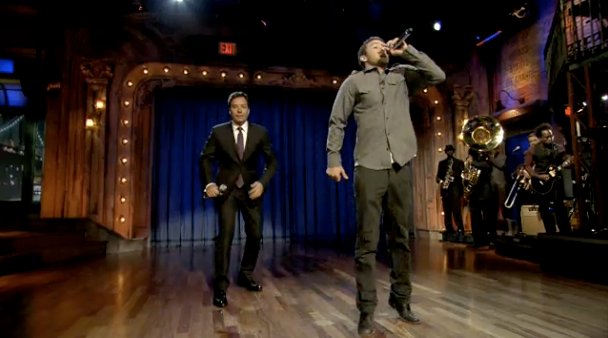 Erinnert ihr euch noch an den großartigen ersten Teil in der Latenight Show von Jimmy Fallon?! The Roots, Jimmy Fallon & Justin Timberlake did it again!
Tracklist:
0:14 The Breaks
0:23 The Message
0:36 Express Yourselfmy Fallon,
0:43 Bring the Noise
0:47 It Takes 2
1:03 Push It
1:18 Ice Ice Baby
1:28 The Choice is Yours
1:37 Cypress Hill – Insane in the Membrane
1:47 DJ Kool – Let Me Clear My Throat
2:04 DMX – Party Up (Up in Here)
2:13 Nelly – Hot in Herre
2:28 50 Cent – In Da Club
2:45 Outkast – Hey Ya
2:59 Lil Wayne – A Milli
3:05 DJ Khaled – All I Do Is Win
3:17 Cali Swag District – Teach Me How To Dougie
3:33 Rick Ross – B.M.F.
3:55 Biz Markie – Just a Friend
Hier auch noch einmal der erste Teil:

( via )
---
Beastie Boys feat. Santigold – Don't Play No Game That I Can't Win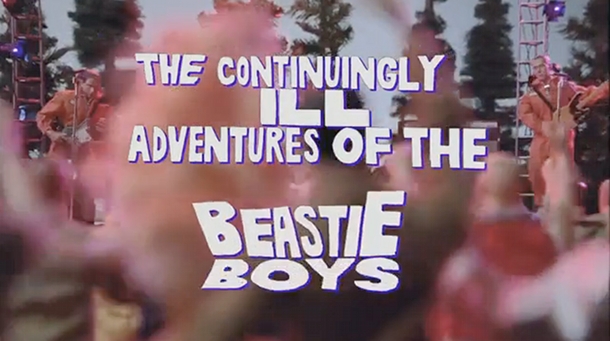 Wiedermal überall zu sehen das Video, aber wenn die Beasties etwas neues droppen, Santigold featuren und auch noch Spike Jonze Regie führt kein Weg dran vorbei…
Es scheint wohl auch wieder einen 11-minüten Kurzfilm zu geben, welcher aber dank der Gema blockiert wird! unter dem Video zu sehen ist!
The Beastie Boys Don't Play No Game That I Can't Win ft. Santigold from Beastie Boys
---
Seen today in Berlin, Lichtenberg. Picture taken by myself. Here in big .
---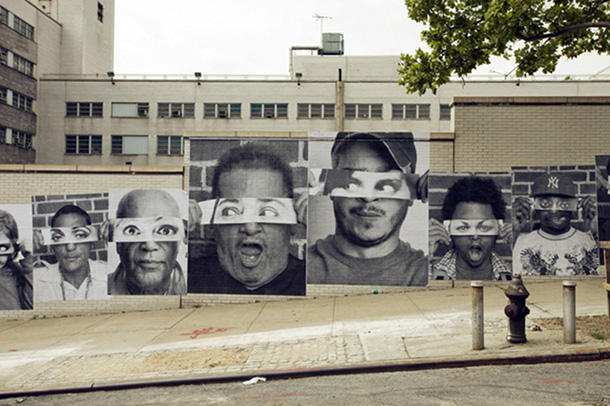 Vor ca. 5 Monaten habe ich über JR ´s Rede bei der TED Prize Verleihung folgendes geschrieben:
JR spricht in diesem 24-minütigen Video von der TED Prize Verleihung über die Entwicklung seiner Arbeit und wie man seine Art von Kunst in einem gemeinsamen Projekt nutzen könnte, um der Welt ihren Spiegel vorzuhalten. Sehr interessanter Vortrag! Für mich ist JR einer der bedeutensten Künstler unserer Generation!
Seit seinem Aufruf haben bereits tausende Menschen Fotos eingeschickt, um an dem Projekt "Inside Out" teilzunehmen! Der Trailer und die erste Webepisode aus Tunesien dokumentieren den Entwicklungsprozess des Projekts. Ich werde selber auch teilnehmen und hoffe sehr, dass sich "Inside Out" global verbreiten wird!
Trailer:

Episode 1:

---