Tinker Hatfield: The visionary
Nike präsentiert ein exklusives Interview mit Tinker Hatfield , dem Designer des Air Max 1 .
Checkt auch den Blogpost Air Max to Maxim .
Nike Sportswear – "Tinker Hatfield: The visionary" from Freshnessmag.com on Vimeo .
---
BigBrobot´s Geburtstag & Ausstellung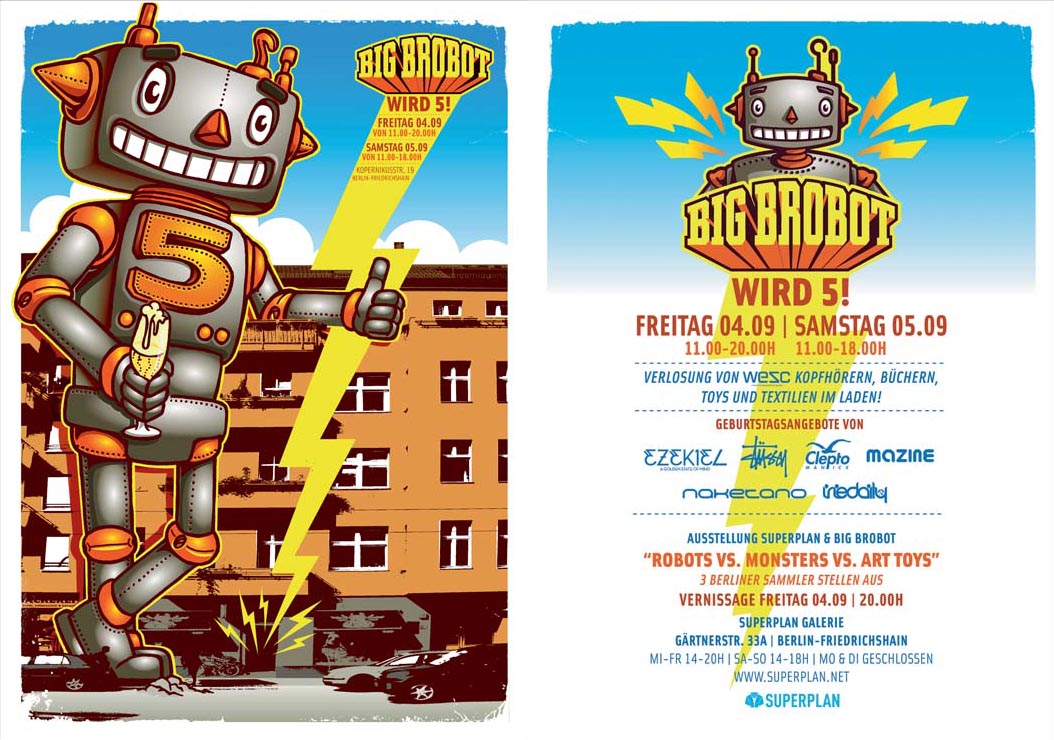 Zum 5 jährigen Bestehen (Glückwunsch!) des BigBrobot Stores in Friedrichshain wird es heute und morgen einige Special Deals geben. Der Laden in der Kopernikusstr.19 hat neben einer großen Auswahl an Art Toys auch Marken wie Cleptomanicx , Stussy oder ZooYork am Start.
Zusätzlich zum Geburtstag im Laden präsentieren Superplan und BigBrobot die "Robots vs. Monsters vs. Art Toys" Ausstellung. 3 Sammler stellen ihre privaten Fundstücke aus. Die Vernissage ist heute ab 20h.
Infos:
BigBrobot Blog
BigBrobot Website
SUPERPLAN
Gärtnerstr. 33a | Berlin-Friedrichshain
Öffnungszeiten: Mi – Fr 14 – 20H Sa – So 14 – 18H Mo, Di geschlossen
(via BigBrobot Blog & Just )
---
IRIE DAILY Summersale @ Watergate Berlin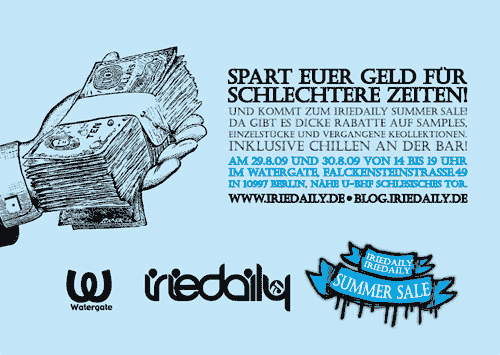 IRIEDAILY Summer Sale!
Rabatte auf Samples, Einzelstücke und vergangene Kollektionen!
29.8.09 und 30.8.09 von 14-19 Uhr
Watergate Berlin
Falckensteinstr.49
Berlin Kreuzberg
---
Schöner animierter Clip über die Evolution des Air Max 1 bis zum Air Maxim 1 .
Infos:
In 1978, Nike revolutionized running by introducing Air technology. In 1987, Tinker Hatfield made Air visible in the Air Max 1 , revolutionizing the industry itself.
Over the next 30 years, Nike did not stop, nor did Air's design visionary, Tinker Hatfield. As part of a constant quest to improve athletic performance, Nike's Air Cushioning technology gave rise to a series of iconic sports innovations.
Part of a new generation of Nike innovators, Ann-Marie Paz and Anthony Hope continue this mission. Driven by Tinker's design ethos of "perform and provoke" – with the greatest research and materials at their disposal – they draw from the past and the future to create the best kicks in the world. The result: Air Maxim 1 .
With Bill Bowerman and Tinker as a starting point, this timeline revisits those 30 years and gives a glimpse into the next 30. This is our story…Enjoy the trip.
---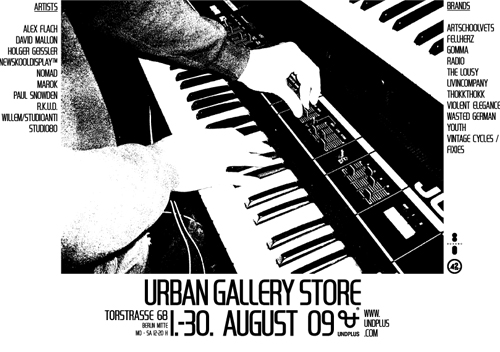 Am 01.08.09 eröffnet der Urban Gallery Store in der Torstrasse 68. Ab gehts von 18-22.00. Die Gallery und der Store haben nur vom 1. bis zum 30.8.09 geöffnet, Montags bis Samstag von 12-20h. Neben Beiträgen von Künstlern wie Nomad , Alex Flach , David Mallon , Paul Snowden , Studio 80 sind auch u. a. die Brands Wasted German Youth , LivinCompany , Radio oder Artschoolvets im Store vertreten.
Vorbeischauen lohnt sich bestimmt!
---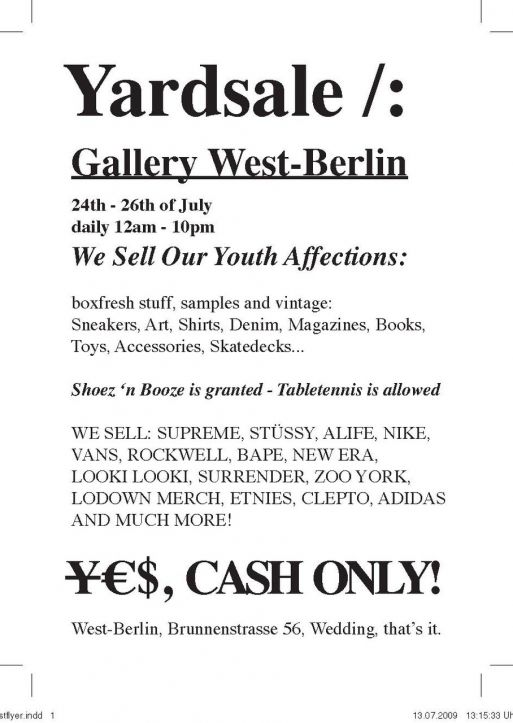 ---
Solemart #3 am 2. Juli 2009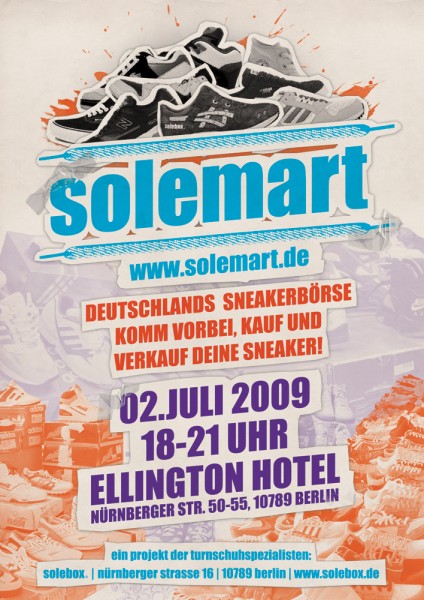 ---
Solemart + Puma R698 x Solebox Release 18.04.09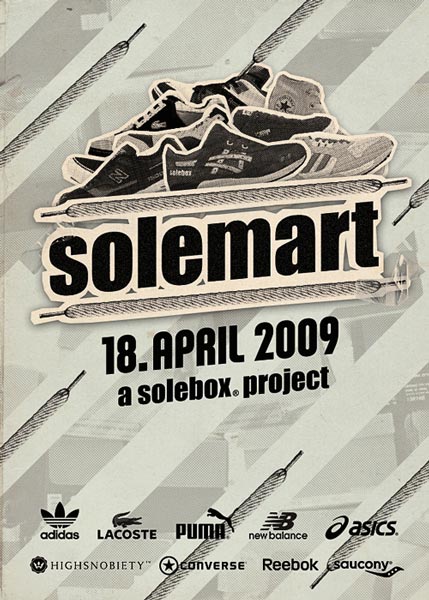 Diesen Samstag startet der zweite Solemart , organisiert von Solebox .
Gegenüber von Solebox im Hotel Ellington können von 14:00 bis 21:00 Uhr wieder Schuhe getauscht, verkauft und gekauft werden.
Außerdem feiert am gleichen Tag der Puma R698 x Solebox seine Premiere im Store.
Hier ein Introduction Video für die Light-Up Laces.
Infos:
Solebox
Solemart
---