Perfekt was Banksy mit "Better Out Than In" initiiert! Anstatt einer Ausstellung in einer Galerie (was er aber auch schon gemacht hat) nutzt Banksy die Strassen New Yorks als Ausstellungplattform! Innerhalb von "Better Out Than In" wird Banksy den ganzen Oktober über seine scharfsinnigen, oft politischen, visuellen Statements in New York anbringen!
Der Clou bei der Sache ist auch folgender: Unter jedem Bild/Pasting/Stencil steht eine Telefonnummer, mit welcher man einen Audioguide abrufen kann. Die ersten drei Bilder findet ihr hier im Blog und alle weiteren Bilder werde ich immer wieder hier anfügen! Den Audioguide könnt ihr auch auf der offiziellen Banksy Seite hören!
- 2.Oktober -



- 3.Oktober -




- 4.Oktober -



- 4.Oktober -



- 4.Oktober -



- 5.Oktober -



- 6.Oktober -

- 7.Oktober -



- 8.Oktober -



- 9.Oktober -



- 10.Oktober -



- 10.Oktober -



- 11.Oktober -



The Sirens of the Lambs. A slaughterhouse delivery truck touring the meatpacking district and then citywide for the next two weeks.



- 12.Oktober -



- 13.Oktober -



Yesterday I set up a stall in the park selling 100% authentic original signed Banksy canvases.
For $60 each.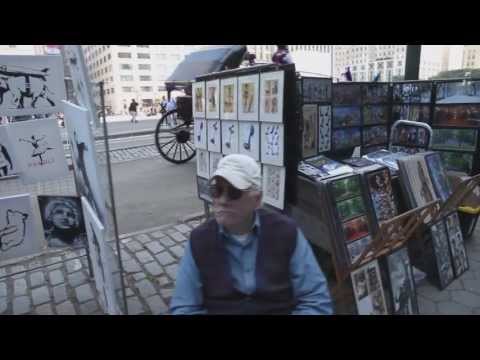 - 14.Oktober -



Some people criticize me for using sources that are a bit low brow (this quote is from 'Gladiator') but you know what? "I'm just going to use that hostility to make me stronger, not weaker" as Kelly Rowland said on the X Factor.
- 15.Oktober -



- 16.Oktober -



A fibreglass replica of Ronald McDonald having his shoes shined by a real live boy. The sculpture will visit the sidewalk outside a different McDonalds every lunchtime for the next week.
- 17.Oktober -



- 18.Oktober -



Are you the sort of person who enjoys going to art galleries but wished they had more gravel in them? Then this temporary exhibition space is for you. Housing just two paintings but also featuring a bench, some carpet and complimentary refreshments.
- 19.Oktober -

- 20.Oktober -



- 21.Oktober -



- 22.Oktober -



No turn unstoned. A 1/36 scale replica of the great Sphinx of Giza made from smashed cinderblocks.You're advised not to drink the replica Arab spring water.
(Alle Bilder & Videos via Banksy Website)
---